Fast Facts
Population: 65,002,000
Capital: Bangkok; 6,604,000
Area: 513,115 square kilometers (198,115 square miles)
Language: Thai, English, ethnic and regional dialects
Religion: Buddhist, Muslim
Currency: Baht
Life Expectancy: 71
Median Household Income: $4,509
Literacy Percent: 96
Thailand, in Southeast Asia, is dominated by the Chao Phraya River basin, which contains Bangkok—the capital and largest city, with some 9.7 million people. Bangkok presents a distinctive Buddhist landscape, with gold-layered spires, graceful pagodas, and giant Buddha statues. To the east rises the Khorat Plateau, a sandstone plateau with poor soils supporting grasses and woodlands. The long southern region, connecting with Malaysia, is hilly and forested. The highest mountains are in northern Thailand, and the rich soils in the remote mountain valleys produce opium poppies.
The population is largely homogeneous, with most being ethnic Thai and professing Buddhism. Some three million Muslims live in the south near the border with Malaysia.
Two 19th-century kings of Siam, Mongkut and his son Chulalongkorn, introduced Western education and technology but preserved the character of a devout Buddhist society. The only nation in Southeast Asia to escape colonial rule, Siam changed its name in 1939 to Thailand, meaning "land of the free." However, Thailand has not escaped military coups—more than a dozen since 1932, when a revolution transformed the government from an absolute to a constitutional monarchy. Resentment against leaders of the 1991 coup sparked demonstrations by a pro-democracy movement. Reforms did take place, and a new constitution went into effect in 1997. The 2001 elections confirmed Thailand's democracy credentials as the people voted in the new Thai Rak Thai ("Thais Love Thais") Party.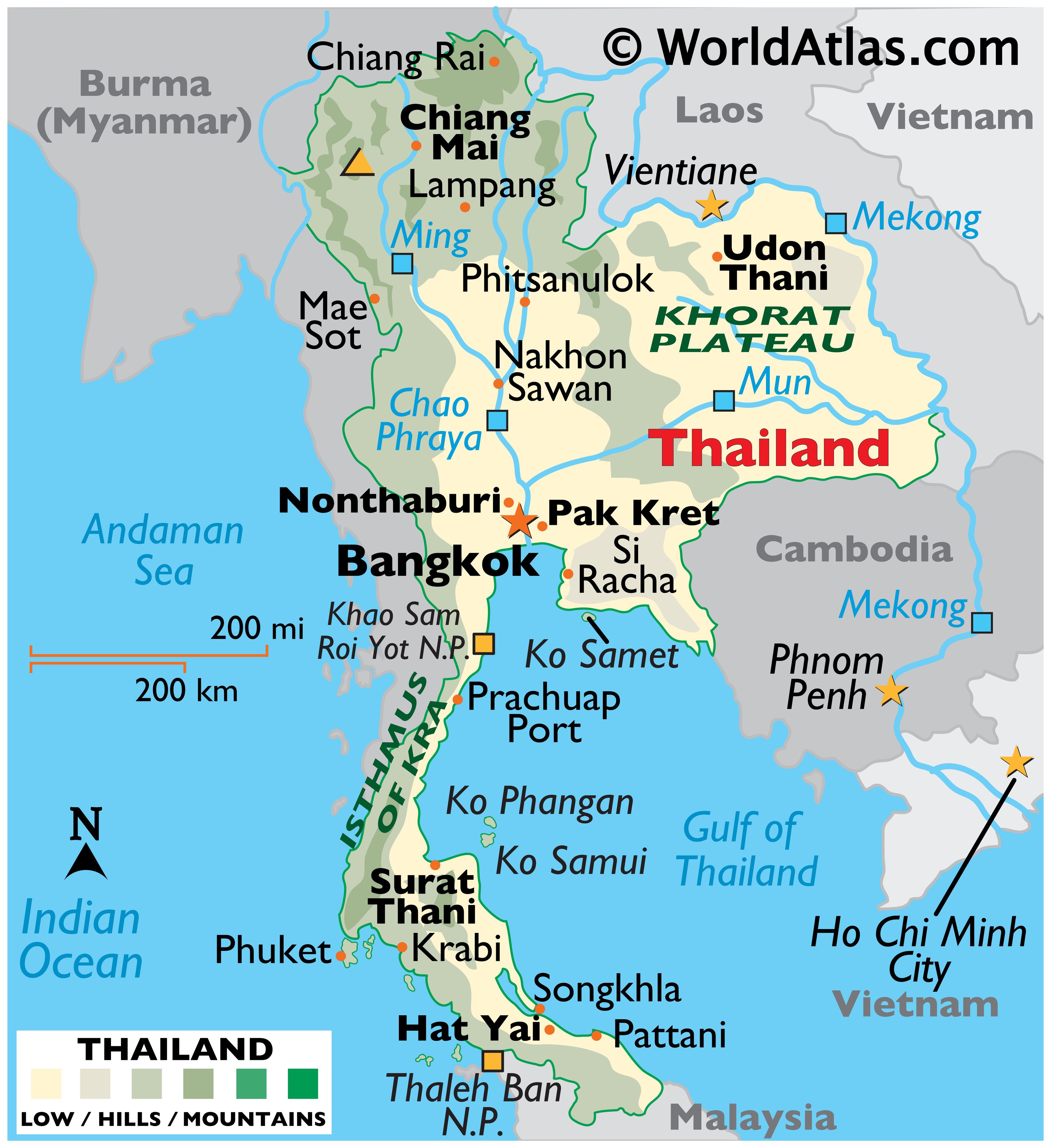 The Thai economy enjoys fast-paced growth based on exports, but the country faces the challenge of spreading the wealth to poorer regions—the infertile eastern plateau is the poorest. Opium production has been reduced, but heroin trafficking is still a problem. The long, mountainous border with Myanmar (Burma) brings refugees, illegal immigrants, and drugs into the country. Some 130,000 Burmese refugees live in Thailand. A Muslim separatist struggle flared up in southern Thailand in 2004. In 2006 a military coup ushered in a new government.
In December 2004, the catastrophic Indian Ocean tsunami hit Thailand, but the country's economy has largely recovered from the disaster's effects.
ECONOMY
Industry: Tourism, textiles and garments, agricultural processing, beverages, tobacco, cement
Agriculture: Rice, cassava (tapioca), rubber, corn
Exports: Computers, transistors, seafood, clothing, rice
—Text From
National Geographic Atlas of the World, Eighth Edition