Can Americans walk a mile in another person's shoes? The Peace Corps is a crash course for doing just that. Adventure and idealism may drive Peace Corps volunteers to serve two years in remote communities, but is this enough to overcome the dissonance between Americans and the developing world? Three Americans challenge themselves and their neighbors to bridge cultural chasms and find common ground during 27 months of getting lost, getting sick, struggling with friendship, romance, humor and the nagging worry that all their efforts will amount to nothing.
Directed by Ashley Tindall and shot by Tindall and Clare Major, the film is currently in production and slated for release late 2014.
27 Months - A Peace Corps documentary trailer
THE VOLUNTEERS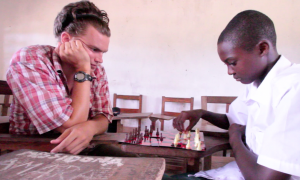 Andy Brake
is a native of Virginia, an Air Force brat and an English literature graduate of the University of North Carolina, where he was a Varsity swimmer and Olympic time-trial qualifier. He got his first taste of international service with Coach for College when he traveled in the summer of 2010 to Vietnam, an experience he said opened his eyes to how much he could give to others, even if it was just making a kid's day by playing a bit of beach soccer.
He currently serves in Vaye Town, Gparbolu County, Liberia where he is teaching English, running a chess club and learning about how slow things move in West Africa.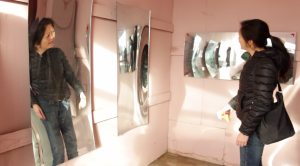 A native of Hilo, Hawaii,
Marcy Morita
grew up hearing her parents talk about their experiences hosting some of the very first Peace Corps volunteers in the early 1960s when they did their pre-service training on the Big Island! She was an undergraduate at the University of California-Irvine and then a graduate student in accounting at the University of Southern California. Before moving to Azerbaijan, she worked for over a decade for Toyota and was an avid beach volleyball player in Hermosa Beach and a volunteer with Habitat for Humanity in Indonesia.
She works at AccessBank, a new bank focused on microfinance in the city of Sumgayit, where she is actively developing their Corporate Social Responsibility programs, conducting conversation clubs, developing a girls leadership camp.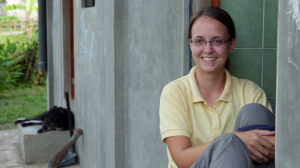 Catherine Clarke
teaches on Marinduque Island in the Philippines, where she has started a remedial English program to help her students meet the high testing standards of the Philippines. A native of Chapel Hill, she is a graduate of the University of North Carolina in International Studies and formerly an ESL teacher with the Hmong community. She also got a taste of international service by teaching for a summer in Ghana.
In the Philippines, where performing on stage while singing "Moves Like Jagger" seems to be nearly every high schooler's talent, Catherine maintains that reading is her talent and devours books from the Peace Corps library whenever she gets her hands on them.
More information at
FilmArcher.com